We're pleased to release the latest software for our Lamassu Bitcoin ATMs.
Available now for Sintra, Sintra Forte, Gaia, Douro II and Douro models, Defiant Dingirma v7.4 delivers numerous under-the-hood improvements along with much anticipated receipt printing and automatic crypto-address blacklisting.
If you missed our previous release, check out our post on the features contained in Crafty Chnemu v7.3.
Receipt printing
Sintras, Sintra Fortes, and Gaias equipped with printers may now provide paper receipts with each transaction, detailing all aspects of the customer's purchase, along with customised operator contact information.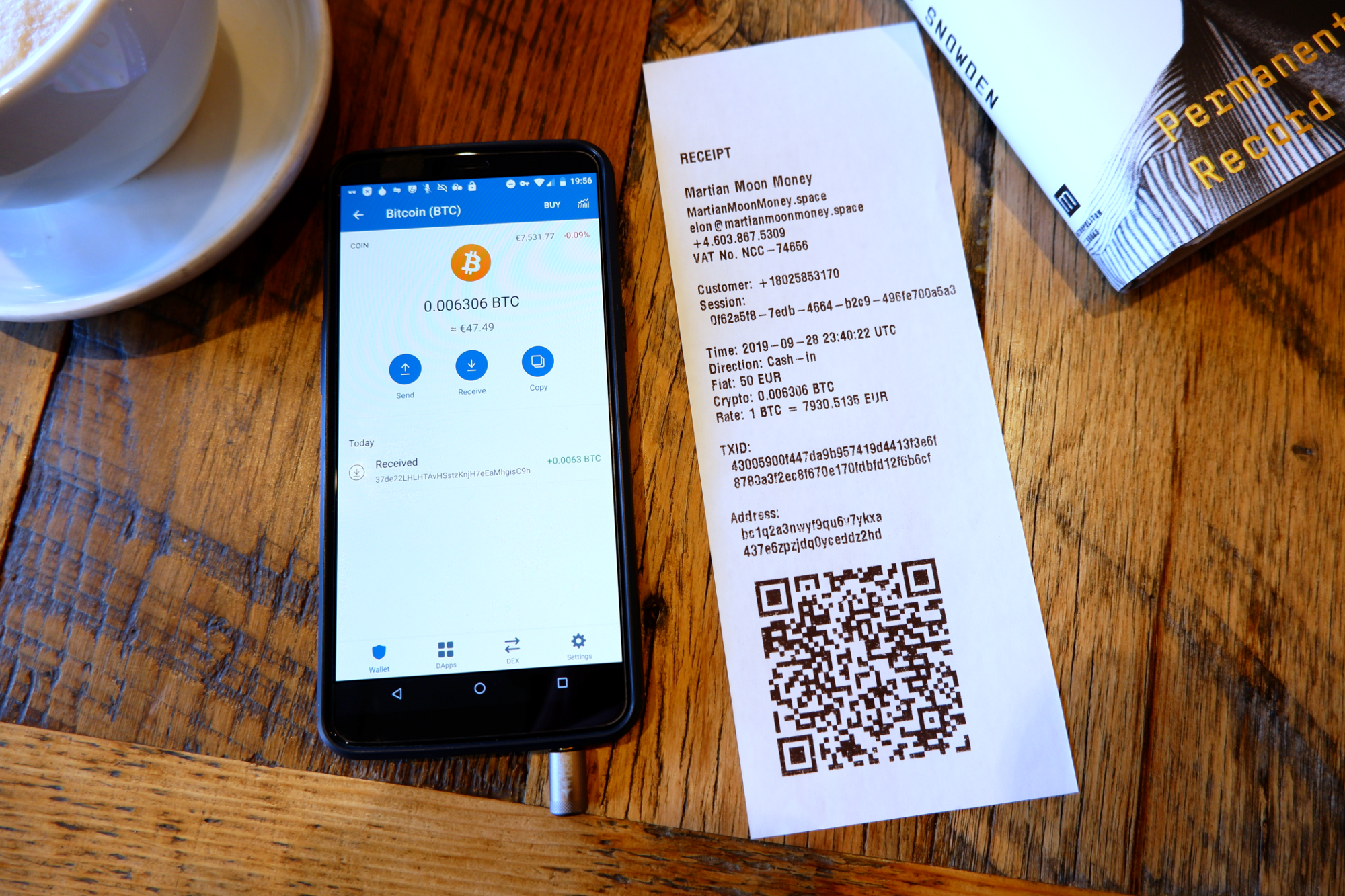 Add your company's name, website, phone number, email address, and registration number in your admin's Operator Info panel, then enable receipt printing from the Compliance panel.
Rejecting address reuse
In our prior release, we introduced customised crypto-address blacklists. In this release, we're extending that with optional automatic blacklisting.
With this feature enabled, if an address has already been used by anyone at your network of ATMs, a customer attempting to scan the same address is presented with a screen prompting them to generate a fresh one.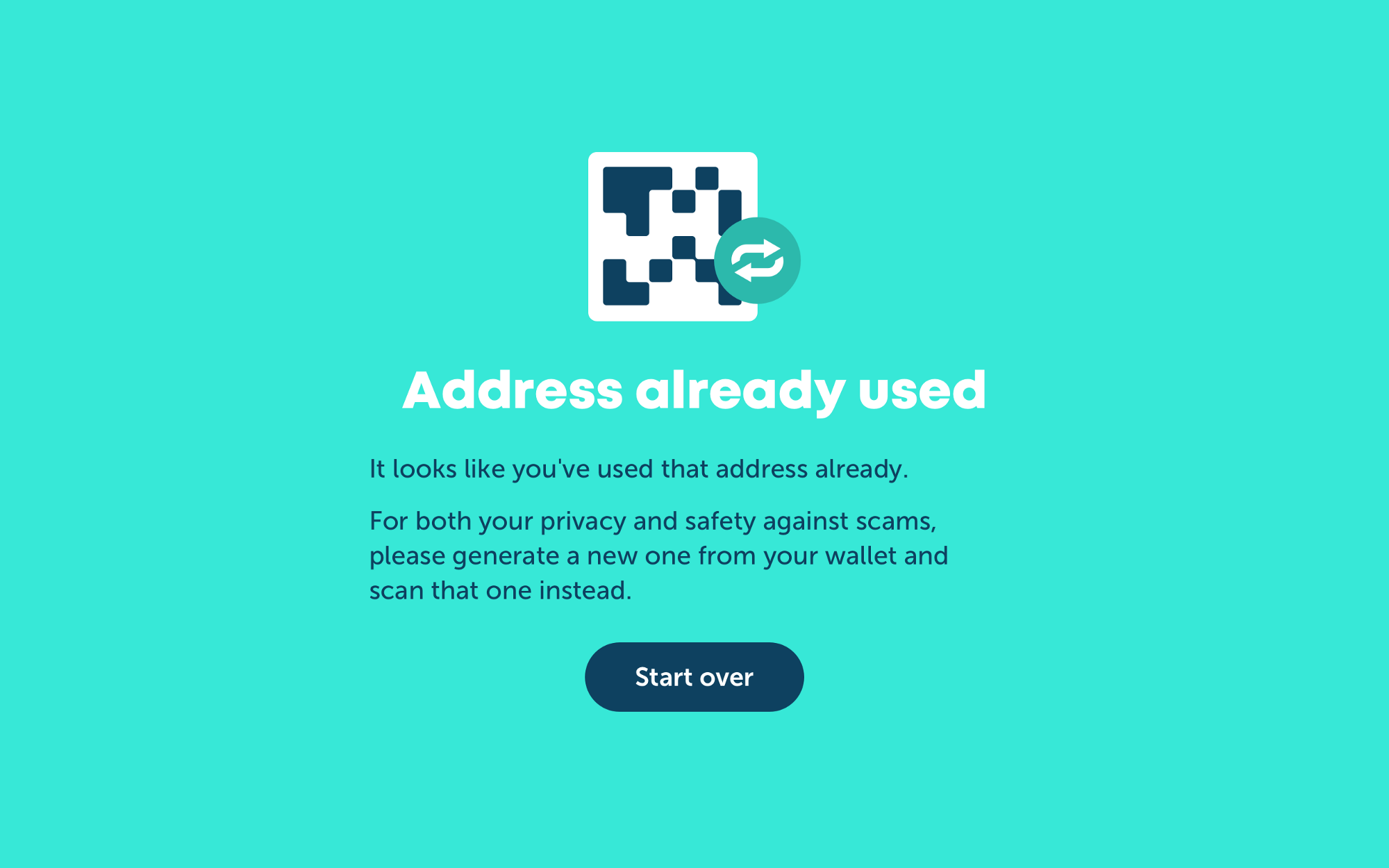 This presents a couple advantages. For the customer, it encourages them to use unique addresses, increasing their privacy. For the operator, it helps them be more compliant by avoiding obvious skirting of minimum compliance thresholds by the same customer. Further, should scammers attempt to reuse an address or have a victim place multiple transactions, they'll be impeded.
Reliability improvements
Cash-in
Previously, if multiple transactions were made in quick succession at the same machine, it was possible for one to wind up dropped.
This has been overcome with v7.4, both in applying an ETH-specific fix for duplicate nonce values and forcing a new wallet balance check for all coins prior to allowing the start of another transaction.
Cash-out
Reliability improvements have been made to the cash-out process, notably in relaying accurate information to the transaction and dispense logs in the event of a dispensing error. This improves record-keeping and prevents a source of over-counting of available bills for subsequent transactions.
Additionally, dispensers will now reinitialise themselves when unable to pick up the next note in the cash cassette, to attempt to clear the condition and to provide the customer with any of their notes still in the dispensing track.
Screen responsiveness
We found that screen touch events were being interpreted differently across our machine platforms, and have deployed browser-specific handling of screen touches to ensure a more responsive experience on each machine.
Stress testing
Through stress-testing, we uncovered some core stability improvements relating to poll requests and log synchronisation between machines and servers, especially on servers with high machine counts. We've deployed optimisations for these in v7.4 to ensure machine networks remain stable as they scale.
Fudge Factor
Either from quirky wallet behaviour or by typing in amounts manually, users can often enough send a crypto amount slightly less than requested during cash-out. If enabling v7.4.9's new 'Fudge Factor' setting in the admin, your machine will automatically accept cash-out transactions that are 100 crypto-atoms fewer than expected. (Currently, 100 sats is less than €0.008.)
And more…
Parses and extracts card numbers and expiration dates from scanned U.S. and Canadian ID barcodes.
Ensures Coin ATM Radar receives individual machines' commission rates, instead of globally-defined ones.
Adds new Finnish, Castillian, Mexican Spanish, Italian, Friulian, Slovak, Bulgarian, and Traditional Chinese translations.
Ensures compatibility with the latest bitcoind and litecoind releases.
Properly marks certain transactions as 'expired' and prevents erroneous labelling of others as such.
Overcomes errors from common admin misconfigurations, such as ommitting text for Terms & Conditions while having the feature enabled.
Read more in this version's release notes.
How to update
Jump on over to the v7.4 article on our knowledgebase for instructions on arranging an update.
The update is free and available to machines regardless of SLA subscription status.
The road ahead
We're hard at work on our next release, Electric Enlil v7.5. In it, we're overhauling and expanding the operator admin in a redesign that is both elegant and powerful, bringing each piece of information to you in visual form.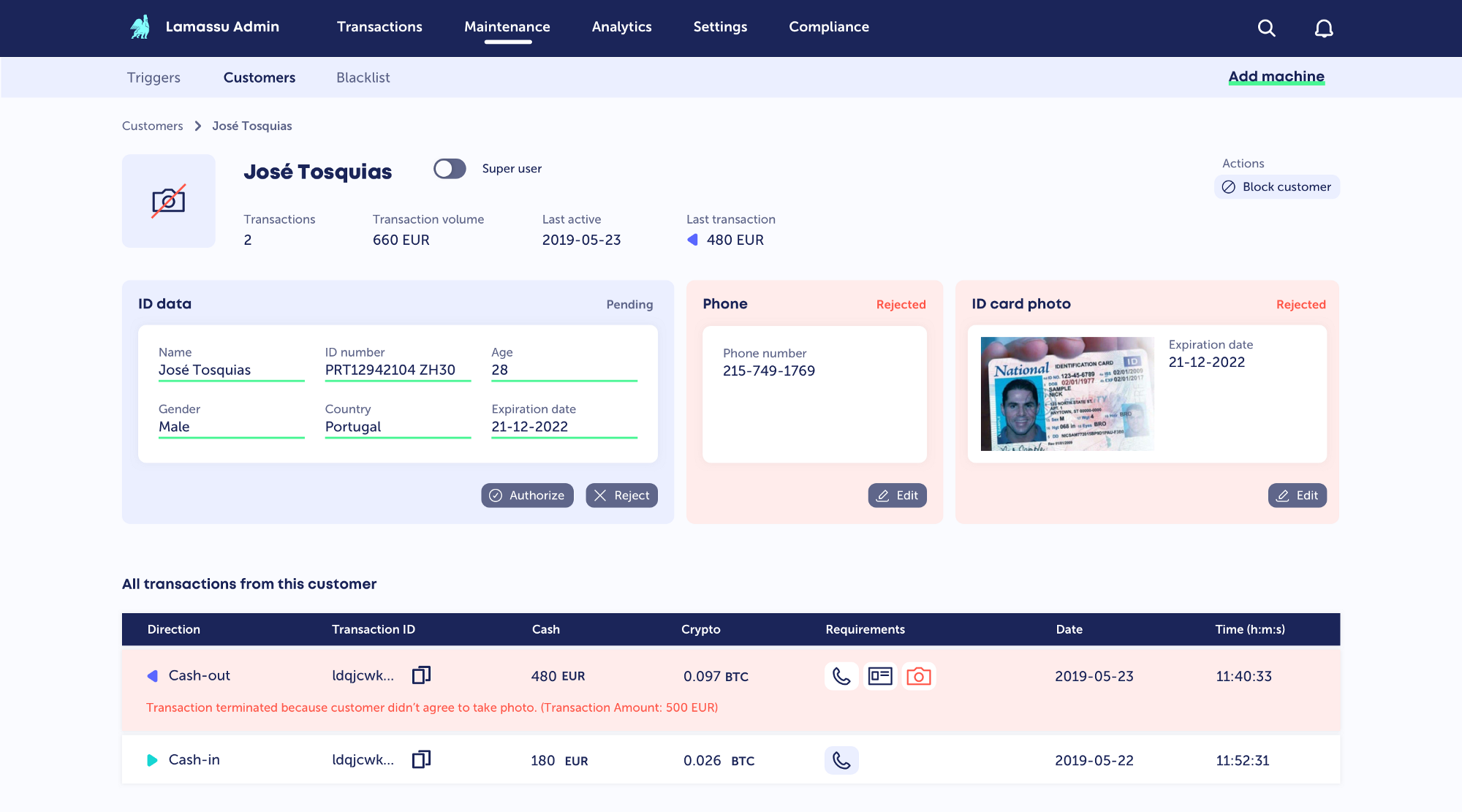 Its initial release will introduce our new rule-based system for compliance, allowing fine-grained controls across a dimension of triggers and thresholds. The rewrite will deploy the architecture for following feature additions, such as analytics, in-admin alerts, detailed customer profiles, machine status pages and more.
Be sure to follow our support announcements on Twitter @LamassuSupport and subscribe to our Telegram channel (email us for an invite) for the latest updates, articles, alerts, and more.
Até breve!